About Us
First Wok is a Chinese takeaway in Chorlton. Why don't you try our Sweet & Sour Special Hong Kong Style or Thai Green Curry?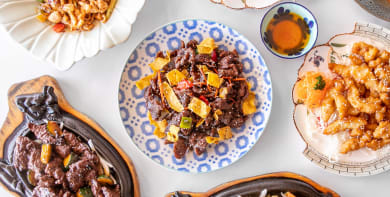 Reviews
195 reviews
Anicea
"Excellent food and service"
26/05/2020
Kate
"Really lovely, fresh food. Will definitely be ordering from here again!"
26/05/2020
Anna
"The broccoli and king prawn was the most popular fish we ordered. It was all tasty and we enjoyed very much. Delicious."
23/05/2020
Borislav
"Great food, great service. Definitely hundred percent recommend!"
23/05/2020
Menu
First Wok One
Chicken & sweetcorn soup
Prawn crackers
Seaweed combination starters (as number 18)
Main Course
Choose one dish from the menu chicken OR beef OR char siu dishes
Egg fried rice
For one person
£12.50
First Wok Two
Chicken & sweetcorn soup OR hot & sour soup (hot & spicy)
Prawn crackers
Seaweed combination starters (as number 18)
Main Course
Sweet & sour chicken Hong Kong style
Beef with green pepper in black bean sauce (hot & spicy)
Yung chow fried rice
For two persons
£23.00
First Wok Three
Chicken & sweetcorn soup OR hot & sour soup (hot & spicy)
Prawn crackers
Seaweed combination starters (as number 18)
Quarter aromatic crispy duck
Main Course
Chicken with ginger & spring onion
Beef in satay sauce (contain nuts, hot & spicy)
Sweet & sour king prawn Hong Kong style
Yung chow fried rice
For three persons
£40.00
First Wok Four
Chicken & sweetcorn soup OR hot & sour soup (hot & spicy)
Prawn crackers
BBQ spare ribs in honey sauce
Skewered chicken satay (contain nuts, hot & spicy)
Half aromatic crispy duck
Main Course
Chicken in garlic & chilli sauce (hot & spicy)
Sweet & sour pork Hong Kong style
King prawn in kung po sauce (contain nuts, hot & spicy)
Fillet steak in Cantonese sauce
Yung chow fried rice
For four persons
£53.00
House Special Soft Noodles
£6.50
Mushroom Soft Noodles
Suitable for vegetarians
£5.40
Mixed Vegetables Soft Noodles
Suitable for vegetarians
£5.40
Singapore Style Soft Noodles
Hot & spicy
£6.30
Singapore Style Vegetables Soft Noodles
Suitable for vegetarians
Hot & spicy
£5.40
Spicy Chicken Soft Noodles
Hot & spicy
£5.70
Thai Spicy House Special Soft Noodles
Hot & spicy
£6.50
Thai Spicy King Prawn Soft Noodles
Hot & spicy
£6.50
Thai Spicy Beef Soft Noodles
Hot & spicy
£6.00
Thai Spicy Char Siu Soft Noodles
Hot & spicy
£5.80
Thai Spicy Chicken Soft Noodles
Hot & spicy
£5.70
Singapore Style Vermicelli
Hot & spicy
£6.00
Singapore Style Chicken Vermicelli
Hot & spicy
£5.80
Singapore Style Beef Vermicelli
Hot & spicy
£5.90
Singapore Style Vegetable Vermicelli
Hot & spicy
Suitable for vegetarians
£5.50
Crab Meat & Sweetcorn Soup
£2.70
Peking Hot & Sour Soup
Hot & spicy
£2.80
Wun Tun Soup
5 Meat dumplings
£3.50
Vegetarian Hot & Sour Soup
Hot & spicy
Suitable for vegetarians
£2.50
Vegetarian Sweetcorn Soup
Suitable for vegetarians
£2.30
Mixed Vegetables Soup
Suitable for vegetarians
£2.30
Salt & Pepper Special
Ribs, chicken, king prawn & chicken wings
Hot & spicy
£6.30
Salt & Pepper Spare Ribs
Hot & spicy
£6.00
Salt & Pepper King Prawn
Hot & spicy
£6.30
Salt & Pepper Squid
Hot & spicy
£6.10
Salt & Pepper Fish
Cod
Hot & spicy
£6.00
Salt & Pepper Shredded Beef
Hot & spicy
£5.80
Salt & Pepper Shredded Chicken
Hot & spicy
£5.60
Salt & Pepper Chicken Pieces
Hot & spicy
£5.60
Salt & Pepper Chicken Wings
Hot & spicy
£4.60
Salt & Pepper Bean Curd
Hot & spicy
Suitable for vegetarians
£6.10
Salt & Pepper Vegetarian Ribs
Hot & spicy
Suitable for vegetarians
£4.40
Salt & Pepper Onion Rings
Hot & spicy
Suitable for vegetarians
£4.10
Salt & Pepper Chips
Hot & spicy
Suitable for vegetarians
£3.00
Malaysian Curry Fillet Steak
£8.80
Malaysian Curry Tri Seafood
£7.80
Malaysian Curry Roast Duck
£6.70
Malaysian Curry House Special
£6.60
Malaysian Curry King Prawn
£6.60
Malaysian Curry Vegetarian Duck (V)
£5.40
Malaysian Curry Beancurd (V)
£5.40
Malaysian Curry Mixed Vegetables (V)
£5.10
Thai Red Curry Fillet Steak
£8.80
Thai Red Curry Tri Seafood
£7.80
Thai Red Curry Roast Duck
£6.70
Thai Red Curry House Special
£6.60
Thai Red Curry King Prawn
£6.60
Thai Red Curry Vegetarian Duck (V)
£5.40
Thai Red Curry Beancurd (V)
£5.40
Thai Red Curry Mixed Vegetables (V)
£5.10
Thai Green Curry Fillet Steak
£8.80
Thai Green Curry Tri Seafood
£7.80
Thai Green Curry Roast Duck
£6.70
Thai Green Curry House Special
£6.60
Thai Green Curry King Prawn
£6.60
Thai Green Curry Char Siu
£6.00
Thai Green Curry Vegetarian Duck (V)
£5.40
Thai Green Curry Beancurd (V)
£5.40
Thai Green Curry Mixed Vegetables (V)
£5.10
Kung Po Sauce Fillet Steak
Contains:
Nuts
£8.50
Kung Po Sauce Tri Seafood
Contains:
Nuts
£7.50
Kung Po Sauce Roast Duck
Contains:
Nuts
£6.40
Kung Po Sauce House Special
Contains:
Nuts
£6.30
Kung Po Sauce King Prawn
Contains:
Nuts
£6.30
Kung Po Sauce Squid
Contains:
Nuts
£6.10
Kung Po Sauce Beef
Contains:
Nuts
£5.80
Kung Po Sauce Char Siu
Contains:
Nuts
£5.70
Kung Po Sauce Chicken
Contains:
Nuts
£5.60
Kung Po Sauce Vegetarian Duck (V)
Contains:
Nuts
£5.10
Kung Po Sauce Beancurd (V)
Contains:
Nuts
£5.10
Kung Po Sauce Mixed Vegetables (V)
Contains:
Nuts
£4.80
Satay Sauce Fillet Steak
Contains:
Nuts
£8.50
Satay Sauce Tri Seafood
Contains:
Nuts
£7.50
Satay Sauce Roast Duck
Contains:
Nuts
£6.40
Satay Sauce House Special
Contains:
Nuts
£6.30
Satay Sauce King Prawn
Contains:
Nuts
£6.30
Satay Sauce Squid
Contains:
Nuts
£6.10
Satay Sauce Beef
Contains:
Nuts
£5.80
Satay Sauce Char Siu
Contains:
Nuts
£5.70
Satay Sauce Chicken
Contains:
Nuts
£5.60
Satay Sauce Vegetarian Duck (V)
Contains:
Nuts
£5.10
Satay Sauce Beancurd (V)
Contains:
Nuts
£5.10
Satay Sauce Mixed Vegetables (V)
Contains:
Nuts
£4.80
Peking Style Fillet Steak
Contains:
Nuts
£8.50
Peking Style Tri Seafood
Contains:
Nuts
£7.50
Peking Style Roast Duck
Contains:
Nuts
£6.40
Peking Style House Special
Contains:
Nuts
£6.30
Peking Style King Prawn
Contains:
Nuts
£6.30
Peking Style Squid
Contains:
Nuts
£6.10
Peking Style Beef
Contains:
Nuts
£5.80
Peking Style Char Siu
Contains:
Nuts
£5.70
Peking Style Chicken
Contains:
Nuts
£5.60
Peking Style Vegetarian Duck (V)
Contains:
Nuts
£5.10
Peking Style Beancurd (V)
Contains:
Nuts
£5.10
Peking Style Mixed Vegetables (V)
Contains:
Nuts
£4.80
Cashewnuts Fillet Steak
Contains:
Nuts
£9.00
Cashewnuts Tri Seafood
Contains:
Nuts
£8.00
Cashewnuts Roast Duck
Contains:
Nuts
£6.90
Cashewnuts House Special
Contains:
Nuts
£6.80
Cashewnuts King Prawn
Contains:
Nuts
£6.80
Cashewnuts Squid
Contains:
Nuts
£6.60
Cashewnuts Beef
Contains:
Nuts
£6.30
Cashewnuts Char Siu
Contains:
Nuts
£6.20
Cashewnuts Chicken
Contains:
Nuts
£6.10
Cashewnuts Vegetarian Duck (V)
Contains:
Nuts
£5.60
Cashewnuts Beancurd (V)
Contains:
Nuts
£5.60
Cashewnuts Mixed Vegetables (V)
Contains:
Nuts
£5.30
Yellow Bean Sauce Fillet Steak
Contains:
Nuts
£8.70
Yellow Bean Sauce Tri Seafood
Contains:
Nuts
£7.70
Yellow Bean Sauce Roast Duck
Contains:
Nuts
£6.60
Yellow Bean Sauce House Special
Contains:
Nuts
£6.50
Yellow Bean Sauce King Prawn
Contains:
Nuts
£6.50
Yellow Bean Sauce Squid
Contains:
Nuts
£6.30
Yellow Bean Sauce Beef
Contains:
Nuts
£6.00
Yellow Bean Sauce Char Siu
Contains:
Nuts
£5.90
Yellow Bean Sauce Chicken
Contains:
Nuts
£5.80
Yellow Bean Sauce Vegetarian Duck (V)
Contains:
Nuts
£5.30
Yellow Bean Sauce Beancurd (V)
Contains:
Nuts
£5.30
Yellow Bean Sauce Mixed Vegetables (V)
Contains:
Nuts
£5.00
Szechuan Sauce Fillet Steak
£8.50
Szechuan Sauce Tri Seafood
£7.50
Szechuan Sauce Roast Duck
£6.40
Szechuan Sauce House Special
£6.30
Szechuan Sauce King Prawn
£6.30
Szechuan Sauce Vegetarian Duck (V)
£5.10
Szechuan Sauce Beancurd (V)
£5.10
Szechuan Sauce Mixed Vegetables (V)
£4.80
Garlic & Chilli Sauce Fillet Steak
£8.50
Garlic & Chilli Sauce Tri Seafood
£7.50
Garlic & Chilli Sauce Roast Duck
£6.40
Garlic & Chilli Sauce House Special
£6.30
Garlic & Chilli Sauce King Prawn
£6.30
Garlic & Chilli Sauce Squid
£6.10
Garlic & Chilli Sauce Beef
£5.80
Garlic & Chilli Sauce Char Siu
£5.70
Garlic & Chilli Sauce Chicken
£5.60
Garlic & Chilli Sauce Vegetarian Duck (V)
£5.10
Garlic & Chilli Sauce Beancurd (V)
£5.10
Garlic & Chilli Sauce Mixed Vegetables (V)
£4.80
Black Pepper Sauce Fillet Steak
£8.50
Black Pepper Sauce Tri Seafood
£7.50
Black Pepper Sauce Roast Duck
£6.40
Black Pepper Sauce House Special
£6.30
Black Pepper Sauce King Prawn
£6.30
Black Pepper Sauce Char Siu
£5.70
Black Pepper Sauce Chicken
£5.60
Black Pepper Sauce Vegetarian Duck (V)
£5.10
Black Pepper Sauce Beancurd (V)
£5.10
Black Pepper Sauce Mixed Vegetables (V)
£4.80
Honey & Chilli Sauce Fillet Steak
£8.50
Honey & Chilli Sauce Tri Seafood
£7.50
Honey & Chilli Sauce Roast Duck
£6.40
Honey & Chilli Sauce House Special
£6.30
Honey & Chilli Sauce King Prawn
£6.30
Honey & Chilli Sauce Squid
£6.10
Honey & Chilli Sauce Beef
£5.80
Honey & Chilli Sauce Char Siu
£5.70
Honey & Chilli Sauce Chicken
£5.60
Honey & Chilli Sauce Vegetarian Duck (V)
£5.10
Honey & Chilli Sauce Beancurd (V)
£5.10
Honey & Chilli Sauce Mixed Vegetables (V)
£4.80
Green Pepper & Blackbean Sauce Fillet Steak
£8.50
Green Pepper & Blackbean Sauce Tri Seafood
£7.50
Green Pepper & Blackbean Sauce Roast Duck
£6.40
Green Pepper & Blackbean Sauce House Special
£6.30
Green Pepper & Blackbean Sauce King Prawn
£6.30
Green Pepper & Blackbean Sauce Squid
£6.10
Green Pepper & Blackbean Sauce Beef
£5.80
Green Pepper & Blackbean Sauce Char Siu
£5.70
Green Pepper & Blackbean Sauce Chicken
£5.60
Green Pepper & Blackbean Sauce Vegetarian Duck (V)
£5.10
Green Pepper & Blackbean Sauce Beancurd (V)
£5.10
Green Pepper & Blackbean Sauce Mixed Vegetables (V)
£4.80
Foo Yung Vegetarian Duck (V)
£5.30
Foo Yung Mixed Vegetables (V)
£5.00
Tomato Vegetarian Duck (V)
£5.10
Tomato Mixed Vegetables (V)
£4.80
Broccoli Vegetarian Duck (V)
£5.10
Broccoli Mixed Vegetables (V)
£4.80
Pineapple Vegetarian Duck (V)
£5.10
Pineapple Mixed Vegetables (V)
£4.80
Mushroom Vegetarian Duck (V)
£5.10
Mushroom Mixed Vegetables (V)
£4.80
Bean Sprouts Fillet Steak
£8.50
Bean Sprouts House Special
£6.30
Bean Sprouts Vegetarian Duck (V)
£5.10
Bean Sprouts Beancurd (V)
£5.10
Bean Sprouts Mixed Vegetables (V)
£4.80
Chop Suey Vegetarian Duck (V)
£5.10
Chop Suey Mixed Vegetables (V)
£4.80
Ginger & Spring Onion Fillet Steak
£8.50
Ginger & Spring Onion Tri Seafood
£7.50
Ginger & Spring Onion Roast Duck
£6.40
Ginger & Spring Onion House Special
£6.30
Ginger & Spring Onion King Prawn
£6.30
Ginger & Spring Onion Squid
£6.10
Ginger & Spring Onion Beef
£5.80
Ginger & Spring Onion Char Siu
£5.70
Ginger & Spring Onion Chicken
£5.60
Ginger & Spring Onion Vegetarian Duck (V)
£5.10
Ginger & Spring Onion Beancurd (V)
£5.10
Ginger & Spring Onion Mixed Vegetables (V)
£4.80
Bamboo Shoots & Water Chestnuts Fillet Steak
£8.50
Bamboo Shoots & Water Chestnuts Tri Seafood
£7.50
Bamboo Shoots & Water Chestnuts Roast Duck
£6.40
Bamboo Shoots & Water Chestnuts House Special
£6.30
Bamboo Shoots & Water Chestnuts King Prawn
£6.30
Bamboo Shoots & Water Chestnuts Squid
£6.10
Bamboo Shoots & Water Chestnuts Beef
£5.80
Bamboo Shoots & Water Chestnuts Char Siu
£5.70
Bamboo Shoots & Water Chestnuts Chicken
£5.60
Bamboo Shoots & Water Chestnuts Vegetarian Duck (V)
£5.10
Bamboo Shoots & Water Chestnuts Beancurd (V)
£5.10
Bamboo Shoots & Water Chestnuts Mixed Vegetables (V)
£4.80
Oyster Sauce Fillet Steak
£8.50
Oyster Sauce House Special
£6.30
Oyster Sauce Vegetarian Duck (V)
£5.10
Oyster Sauce Beancurd (V)
£5.10
Oyster Sauce Mixed Vegetables (V)
£4.80
Cantonese Sauce Fillet Steak
£8.50
Cantonese Sauce Tri Seafood
£7.50
Cantonese Sauce Roast Duck
£6.40
Cantonese Sauce House Special
£6.30
Cantonese Sauce King Prawn
£6.30
Cantonese Sauce Vegetarian Duck (V)
£5.10
Cantonese Sauce Beancurd (V)
£5.10
Cantonese Sauce Mixed Vegetables (V)
£4.80
Deep Fried in OK Sauce Roast Duck
£6.40
Deep Fried in OK Sauce House Special
£6.30
Deep Fried in OK Sauce King Prawn
£6.30
Deep Fried in OK Sauce Squid
£6.10
Deep Fried in OK Sauce Chicken
£5.60
Deep Fried in OK Sauce Vegetarian Duck (V)
£5.10
Deep Fried in OK Sauce Beancurd (V)
£5.10
Pineapple Fritters in Syrup
£2.50
Stir Fried Bamboo Shoots & Water Chestnuts
£3.20
Deep Fried Crispy Noodles
£2.80
Half Fried Rice, Chips & Curry
Hot & spicy
£3.70
Half Egg Fried Rice & Half Soft Noodles
£4.30
Sweet & Sour Sauce
8oz tub
£1.30
Curry
8oz tub
Hot & spicy
£1.30
Black Bean Sauce
8oz tub
Hot & spicy
£1.30
Chilli Oil
2oz cup
Hot & spicy
£0.50
Mushrooms Chow Mein
Suitable for vegetarians
£5.40
Mixed Vegetables Chow Mein
Suitable for vegetarians
£5.40
Har Gau (4)
Prawn dumpling
£3.40
Siu Mai (4)
Prawn & pork dumpling
£3.40
Steamed Beef Dumpling (5)
£3.40
Mushrooms Fried Rice
Suitable for vegetarians
£5.20
Mixed Vegetables Fried Rice
Suitable for vegetarians
£5.20
House Special Chilli Fried Rice
Hot & spicy
£6.30
Singapore Style Fried Rice
Hot & spicy
£6.10
Thai Spicy House Special Fried Rice
Hot & spicy
£6.30
Thai Spicy King Prawn Fried Rice
Hot & spicy
£6.30
Thai Spicy Beef Fried Rice
Hot & spicy
£5.70
Thai Spicy Char Siu Fried Rice
Hot & spicy
£5.60
Thai Spicy Chicken Fried Rice
Hot & spicy
£5.50
Sweet & Sour Duck Hong Kong Style
£6.40
Sweet & Sour Special Hong Kong Style
King prawn, chicken & pork
£6.30
Sweet & Sour King Prawn Hong Kong Style
£6.30
Sweet & Sour Squid Hong Kong Style
£6.10
Sweet & Sour Fish Hong Kong Style
Cod
£6.00
Sweet & Sour Chicken Hong Kong Style
£5.60
Sweet & Sour Pork Hong Kong Style
£5.60
Sweet & Sour Bean Curd Hong Kong Style
Suitable for vegetarians
£5.10
Sweet & Sour Mixed Vegetables Hong Kong Style
Suitable for vegetarians
£4.80
Aromatic Crispy Duck Quarter
Served with pancakes, shredded cucumber, leeks & hoi sin sauce
£8.50
Aromatic Crispy Duck Half
Served with pancakes, shredded cucumber, leeks & hoi sin sauce
£16.00
Aromatic Crispy Chicken - Half
Served with pancakes, shredded cucumber, leeks & hoi sin sauce
£8.50
Aromatic Crispy Vegetarian Duck
Served with pancakes, shredded cucumber, leeks & hoi sin sauce
£7.50
Seaweed Combination Starters For 1 Person
BBQ ribs, sesame prawn on toast, spring rolls, beef curry samosa, spicy chicken wings (Hot & spicy), seaweed with sweet & sour dip
£4.50
Seaweed Combination Starters For 2 Persons
BBQ ribs, sesame prawn on toast, spring rolls, beef curry samosa, spicy chicken wings (Hot & spicy), seaweed with sweet & sour dip
£8.00
House Special Combination Starters for 2 Persons
BBQ ribs, spring rolls, fun kao, skewered chicken satay (Contain nuts, hot & spicy), crispy wun tun, seaweed with sweet & sour dip
£8.50
Skewered Chicken (4) in Satay Sauce
Contain nuts
Hot & spicy
£5.30
Skewered Chicken (4) in Cantonese Sauce
£5.30
Large Pancake Rolls (2)
Chop suey
£3.30
Crispy Pork Spring Rolls (4)
£3.20
Vegetarian Spring Rolls (10)
Suitable for vegetarians
£3.20
Crispy Chicken Spring Rolls (4)
£3.20
Sesame Prawn on Toast (6)
£4.00
Fun Kao (4)
Crispy meat dumpling
£3.30
Crispy Seaweed
Suitable for vegetarians
£3.20
Thai Prawn Crackers
Hot & spicy
£2.60
Spare Ribs in Sweet & Sour Sauce
£6.00
Spare Ribs in Honey & Chilli Sauce
Hot & spicy
£6.00
Peking Style Spare Ribs
Contain nuts
£6.00
Vegetarian Spare Ribs
With sweet & sour dip
Suitable for vegetarians
£4.40
Deep Fried Squid
With sweet & sour dip
£6.10
Prawn Balls (8)
With sweet & sour dip
£6.30
Chicken Balls (8)
With sweet & sour dip
£5.60
Chicken Wings in OK Sauce
£4.60
Chicken Wings in Honey & Chilli Sauce
Hot & spicy
£4.60
Peking Style Chicken Wings
Contain nuts
£4.60
Aromatic Spicy Chicken Wings
Hot & spicy
£4.60
Roast Duck Curry
Hot & spicy
£6.40
House Special Curry
Hot & spicy
£6.30
King Prawn Curry
Hot & spicy
£6.30
Char Siu Curry
Hot & spicy
£5.70
Chicken Curry
Hot & spicy
£5.60
Mushroom Curry
Hot & spicy
Suitable for vegetarians
£4.80
Mixed Vegetable Curry
Hot & spicy
Suitable for vegetarians
£4.80
Roast Duck Cantonese Style
£6.70
Roast Duck & Char Siu Cantonese Style
£6.70
Crispy Shredded Chilli Chicken
Hot & spicy
£5.60
Crispy Shredded Chicken in OK Sauce
£5.60
Crispy Shredded Chilli Beef
Hot & spicy
£5.80
Crispy Shredded Beef in OK Sauce
£5.80
Crispy Shredded Chilli Special Mixed
Hot & spicy
£5.80
Crispy Shredded Special Mixed in OK Sauce
£5.80
Roast Duck in Lemon Sauce
£6.40
Roast Duck in Orange Sauce
£6.40
King Prawn in Lemon Sauce
£6.30
King Prawn in Orange Sauce
£6.30
Contact Us
Find Us
361 Barlow Moor Road, Chorlton, M217FZ
We deliver to
M16, M20, M21, M32